It was opening night at Galt Arena Gardens on January 20, 1922.
Galt's Speedy Oliver scored the first goal ever as Galt beat Preston 5-0. Oliver kept the puck and inscribed it after the big game. Today, 100 years later, the puck is still on display, a proud fixture at the arena, a memory of that first magical moment, and of so many more to come.
"And there are many", says David Menary from Cambridge. "It's a special arena, in a special town."
Menary commemorates the 100th anniversary of Galt Arena Gardens, in his latest book, "100 Years of Galt Arena Gardens, a History" which he hopes will be published this summer, to coincide with the arena's centennial.
"I am hoping to have it finished for June 18, for the big celebration to be held at Galt Arena. It was postponed from an earlier date because of COVID-19," Menary said.
"Research was also delayed in trying to access archives and so forth. I am still hopeful to have it done by then, but it is certainly on the way."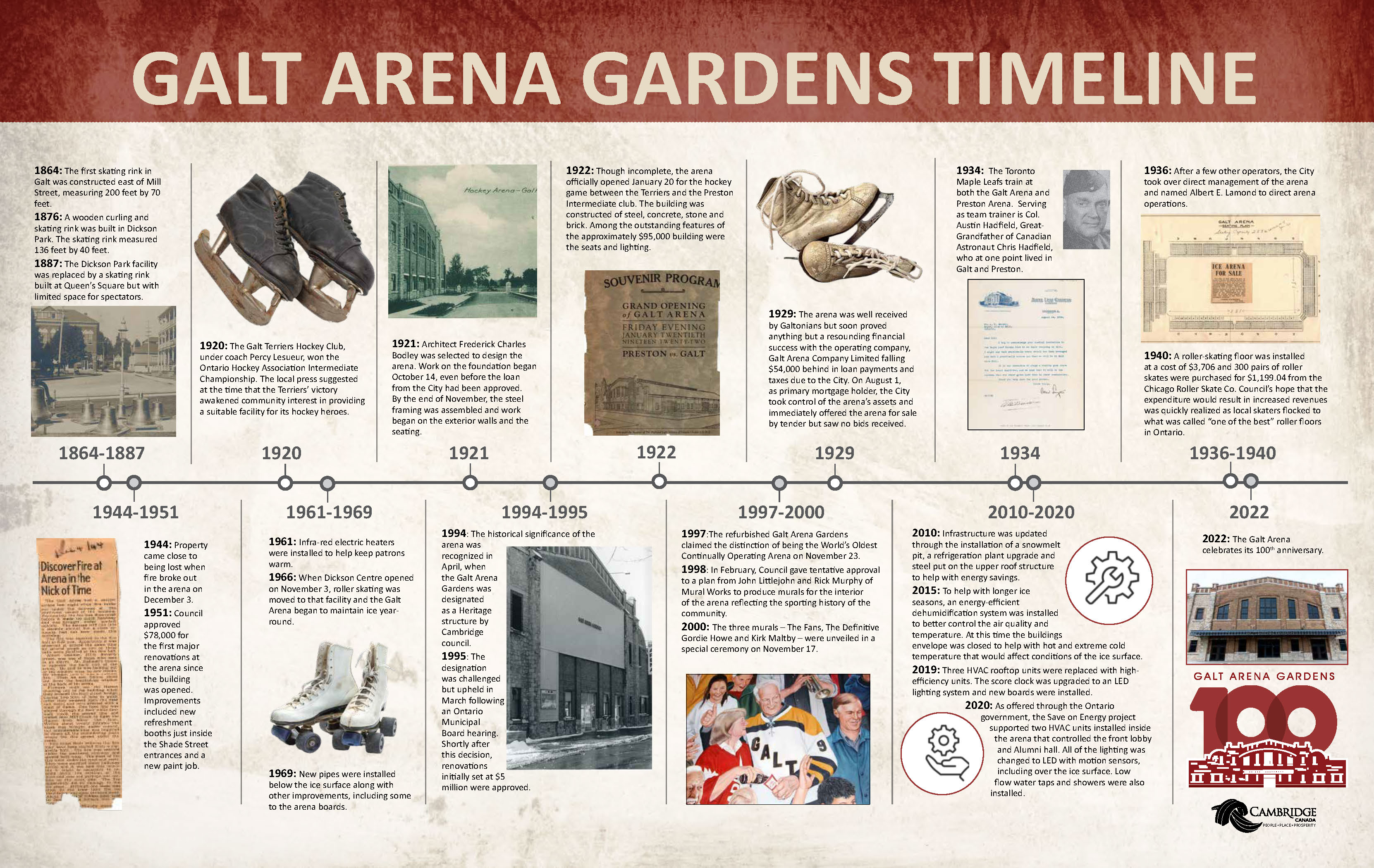 When it comes to hockey and history, Menary is no stranger to either.
A journalist, author, artist, and poet, Menary is a former newspaper sports editor and teacher. He is known to have a passion for uncovering 'a good Canadian story.'
From an early age, Menary had a love of writing and art.
"I always wanted to be a writer. I graduated from Wilfrid Laurier University and onto Teacher's College. After that, I was accepted into a Journalism program at Ryerson. When I was there, I was offered a job by Carl Fletcher at the Cambridge Reporter. He was a long-time sports editor there. He was a legend," Menary said.
"When I was a kid, I would read the paper as I was delivering them. So, I took that job. I was a reporter in the sports department and I loved it."
Menary has authored many books including Gordie Howe: a year in Galt, Cambridge: Sporting Life of a Town, Terrier Town Summer of '49, and Brothers of the Wind: from Albertville to Nagano.
"In the course of my research for this book about Galt Arena Gardens, I had the opportunity to speak with some old-time hockey players and figure skaters," Menary said.
One such player was Peter Conacher, whose father Charlie also played in the NHL, a 'Maple Leaf legend.'
"Peter is now in his late 80s and lives in Toronto. He came back to Galt a couple weeks ago wanting to see some of the landmarks from his youth," Menary said.
"He just loved playing in Galt Arena. At that time, he was leading the league in scoring with his teammate Kenny Wharram, another future NHLer from North Bay."

In 1949, Conacher tried out for the Galt Junior A Blackhawks, Chicago's top junior team in Canada. He dreamt of making it to the NHL. He made the team and stayed in Galt for three years.
In his last season, Conacher was the leading scorer when he got the call to play for the Chicago Blackhawks in the NHL.
"When he visited the Galt Arena a couple weeks ago, he stood out front and just marvelled. He saw it in a new way, different than how he saw it when playing here. He appreciated the architecture and the setting right beside Soper Park. He said what a magnificent building that is," Menary said.
Menary recalls 94-year-old Marty Pavelich who played in Galt just a few years before Conacher.
"The team then was the Galt Junior A Redwings, the junior team for the Detroit Redwings. Marty came from Sault Ste. Marie and didn't know if he would make the team. But he went on to a long career in the NHL and was a teammate of Gordie Howe's, both in Galt and in Detroit. He always said Gordie Howe was the best hockey player he had ever seen."
Pavelich was on the Hockey Hall of Fame Selection Committee and would visit Galt in later years.
"He would stop by the arena. He said he would get tears in his eyes thinking back to the three most wonderful years he had in Galt," Menary said.
Many hockey greats played at Galt Arena Gardens during their Junior A hockey days including Gordie Howe, goaltender Terry Sawchuk, and Bobby Hull.
Menary says Galt Arena Gardens a place of memory and heritage for so many people, a "time capsule to a century".
"Events like the skating races, which are now into their 92nd year, are almost as old as the arena. This is such a unique event for the community that has continued. Generations of people in the city have participated from grandparents and grandchildren. So, it really is a place of memory," he said.
Galt Arena Gardens has hosted a range of events including the Garden Brothers Circus, wrestling, motorcycle racing and boxing.
Patsy Cline performed at Galt Arena on May 7, 1962, just months before she died in a plane crash.
Today, Galt Arena Gardens is regarded as the oldest continuously operating hockey arena in Canada, and has never missed a hockey season, even while undergoing renovations in 1996.
"In 1996, there was talk about bulldozing the arena. People were up in arms about that happening. They talked about the heritage and the history," Menary said.
"The arena invokes such a special meaning for so many different people."
It's no surprise that Menary, born and raised in Cambridge, loves all things Cambridge. His writings and artwork can be found on his website, 'It Happened in Cambridge'.
"I thought to myself, how the heck did I get so wrapped up in all of this but my father who passed away in 1998, grew up here. There were so many old stories told, and so much history," Menary said.
Menary also enjoys sharing Cambridge through art.
"I used to paint when I was young. Art was one of my favourite classes in high school. I absolutely loved it. But then I had an arm injury. I was paralyzed for a couple of years, so it's only been in the last few years that I've returned to it," Menary said.
"In Cambridge, there are so many picturesque scenes in the day or in the evening, with the sun hitting it a certain way. I really enjoy capturing these moments."
One of Menary's paintings depicts a brilliant blue sky on a winter's day as the sun hits the rooftop of the Galt Arena Gardens.
"There are other arenas out there. You play and you leave," Menary said.
"But at Galt Arena Gardens, there's an aura, it really is so special."
For more information about David Menary and 'It Happened in Cambridge', visit here.