Threats scrawled on a bathroom stall at St. Benedict Catholic Secondary School on Monday had parents and students on edge Tuesday, a day after three children and three adults were murdered by a lone shooter at a private Christian elementary school in Nashville, Tennessee.
As some students stayed home as a precaution, a local criminologist called for calm and the need for mental health reform in schools.
"I didn't want to take any chances, even if they were empty threats," said a parent whose child is a Grade 9 student at St. Benedict.
CambridgeToday agreed to maintain the parent's anonymity for the safety of their child. "I decided to keep him home and I know many of his friends were not at school either."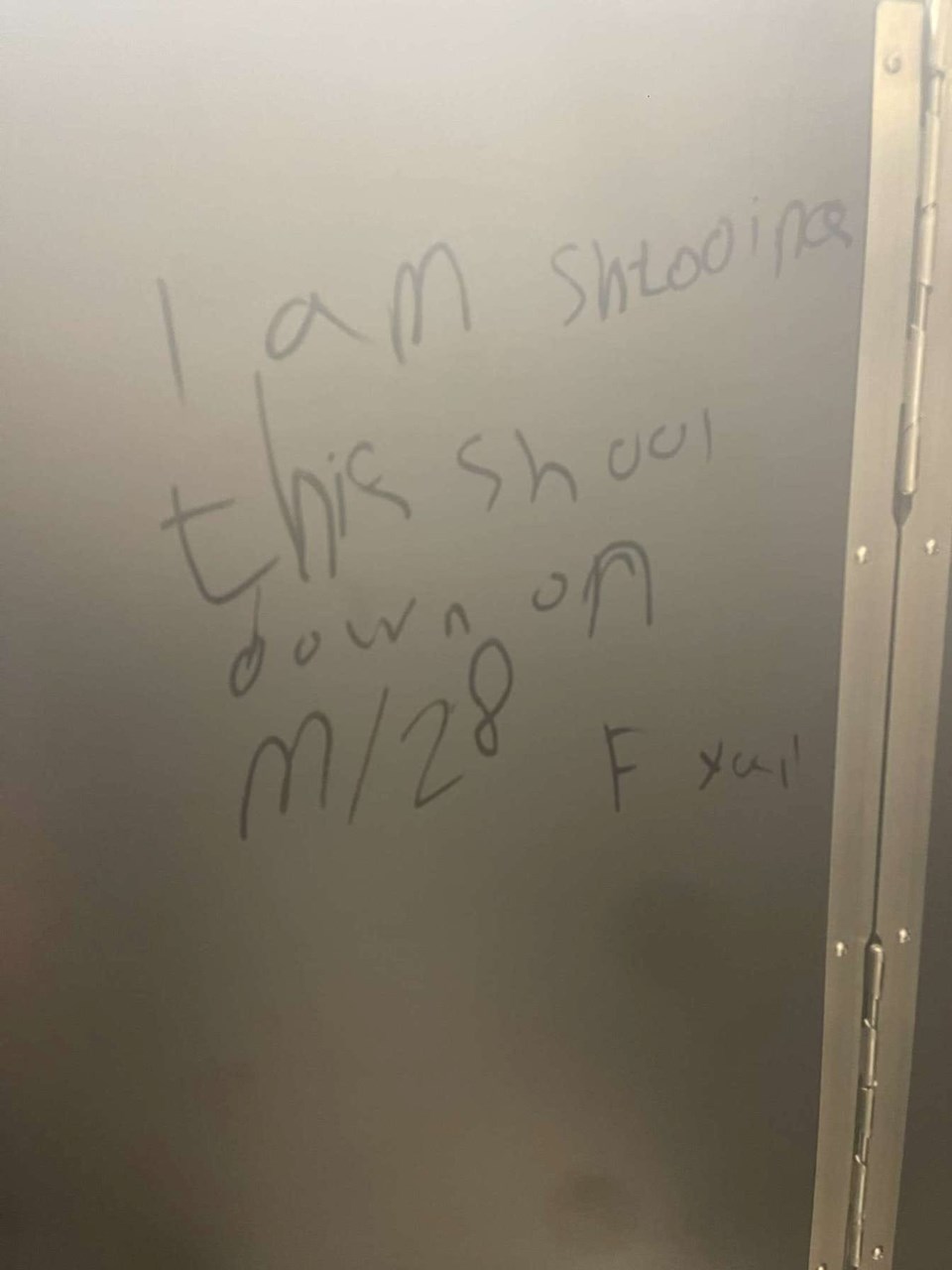 The parent said it seems like the graffiti was most likely a cry for help, but didn't want to risk sending their child to school over fears something tragic could happen.
Police were called to St. Benedict on March 27, at approximately 8:25 a.m. The investigation is ongoing and no further details have been made public at this time.
It marks the second time this school year a threat has been made at St. Benedict.
Last September, a similar threat was found in a washroom making reference to potential violence towards the school, staff and students. Police later determined the threat wasn't viable.
Waterloo Catholic District School Board communications manager Jon Shewchuk said the board called parents after Monday's incident in addition to sending out an email, assuring them they are taking all the necessary steps to ensure processes for school safety are in place.
The parent who spoke to CambridgeToday said the tragic shooting in Nashville played a role in their decision to keep their child home.
"This is not the states, but it's hard to ignore when something like that happens. I just can't risk it," they added.
Criminology expert and professor at the University of Waterloo, Dr. Jennifer Schulenberg, thinks while these threats need to be taken seriously, the response to them needs to change.
"If someone was going to shoot up a school they don't announce it through graffiti," said Schulenberg. "This could come from a mental health issue or just a cry for help."
The U of W prof thinks schools need to identify the root causes of these threats and other school violence to really understand why these incidents are happening.
She believes the chronic under-funding of things like social and economic intervention workers, counsellors and mental health specialists creates an environment that's more conducive for school violence.
"We're putting all the responsibility on the police and the teachers," Schulenberg said. "We need the political will to start dealing with the root causes of this behaviour and not keep putting on a societal band aid that says, we removed the graffiti, it's not an emergent situation, it's not a credible threat. Let's move on."
The needs of the children need to be met before a situation like this can be resolved, or else things will keep manifesting in other ways, she added.
"The kids need to be a part of the conversation and be the main focus on this, because this is how we will solve these issues by taking care of them; in and out of school."
Other parents took to social media about the threats and expressed their concerns with the community.
"It is scary and I have to be honest; I feel like people are still in the frame of mind that 'it won't happen in our backyard,'" wrote a concerned parent. "Sadly, these things need to be taken seriously, because it could happen in our schools just as easily as it happens other places. My kid would be staying home."
"I graduated from Bennies back in 2021. This is very uncommon to happen but this happened once when i was in grade 11 (before COVID) where someone threatened to shoot people and he got arrested. Please tell your kids to stay home tomorrow even if it's just a threat," wrote a former student.
Schulenberg said parents and the community have every right to be afraid, but to trust the police if they say it is safe or is not a credible threat.