An expansive Blair Road property that was once the backyard of a home built for the president of Babcock and Wilcox has been listed for sale at close to $3.5 million and comes complete with studies for two development concepts with up to 20 units.
Realtor Daniel Da Cunha said the property was granted severance approval by the City of Cambridge in early 2022, before the home at 119 Blair Rd. was listed for $1.86 million as Part 1 of the severed lot.
The listing is for Parts 2 and 3, which extends between the back of Mountview Cemetery and three homes that are accessed via a private laneway off Blair Road, was posted on Realtor.ca in early November.
Da Cunha said Part 1 of the lot at 119 Blair Road, which contains the home, features a right of way that would allow access to whatever the purchaser plans to build on the property.
As stated in the listing, the "prime infill development opportunity" is located in one of the city's most sought-after locations on 2.2 acres of land.
The concepts and studies included with the purchase price are for nine executive single family building lots or 20 executive townhomes.
The listing says it could also be retained as "an incredible building lot for a stunning estate home."
All the studies have been completed and are waiting for the new buyer to choose their direction, the listing says.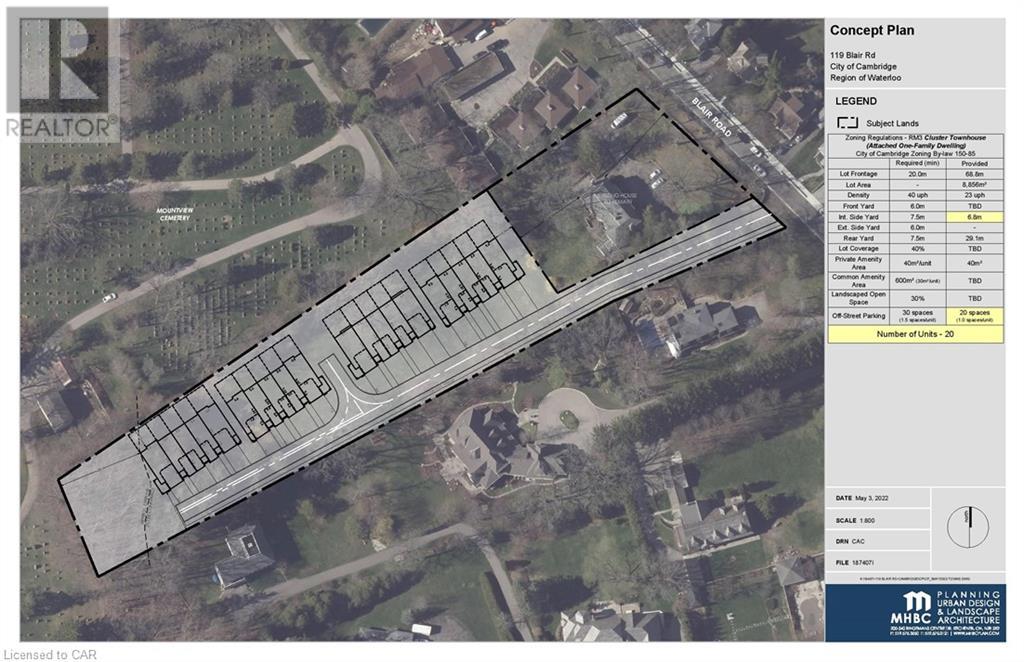 Da Cunha said there have been some expressions of interest but understands it's a process to get everything complete before an offer comes through.
Rezoning the property for higher density development would require the developer to go through the city's planning process, including public consultation.
The city says it can't speak to the accuracy of the listing and says no development application for the property has been received.
The owners of the home at 119 Blair Road requested it become a designated heritage property last June.
The staff recommendation to post notice of the intention to grant the designation was discussed at the municipal heritage advisory committee (MHAC) meeting in July.
Councillor at the time Pam Wolf said she was glad to see yet another Dickson Hill home up for heritage designation to protect the area's heritage.
MHAC chair John Oldfield called it a "gorgeous" home, well deserving of a heritage designation for its cultural and architectural relevance to Cambridge.
Built for William Andrew Osbourne in 1936, 119 Blair Road "is a beautiful example of the Georgian Revival style with its symmetrical front bay design and double ended chimneys," wrote senior heritage planner Laura Waldie in her report to MHAC.
Osborne was a prominent engineer who became president of Babcock and Wilcox, served as an instructor at the School of Aeronautics in Toronto and was inducted into the University of Toronto's Engineering Alumni's list of distinguished engineers in 1985.
The recommendation to designate has yet to be heard by council.