A sci-fi fan favourite has been brought to life through the imagination and ingenuity of a Cambridge man who built two interactive robot Daleks made famous in television classic Doctor Who.
But instead of wreaking havoc with a goal to "exterminate" everything in their paths, these two Daleks play a vastly different role in real life.
The mastermind behind the life-size robots brings them on journeys across Canada to raise money for charity and thrill fans at sci-fi conventions.
What originally started as an entirely different project for Jim Foggo, quickly spiralled into building one of the most recognizable figures in science fiction.
The whole thing started when he set out to build a canoe.
"I stumbled onto actual construction plans from the original set of Doctor Who," Foggo said. "I was just building it for giggles, I didn't expect it to kinda take a life on of its own."
Over a span of three years, Foggo built Orin first; a seven-foot tall white supreme Dalek. Axel came a few years later utilizing fibreglass and foam components in addition to 3D printing smaller parts.
Both were made by Foggo, in his garage at his Cambridge home with a level of detail, craftsmanship and love that could only come from the hands of a lifelong fan of the uniquely British sci-fi classic.
The UK expat said while he was growing up, Doctor Who was ingrained in the fabric of society. Now, he is the proud owner of two life-sized props from the show that are used for more than just showing off at conventions.
"So we are a part of the Doctor Who society and we all travel to the various cons and sci-fi events and raise money for local sick kids charities," said Foggo.
Foggo and his family travel from convention to convention, here in Ontario like FanExpo in Toronto and to places like Montreal, Ottawa and Hamilton.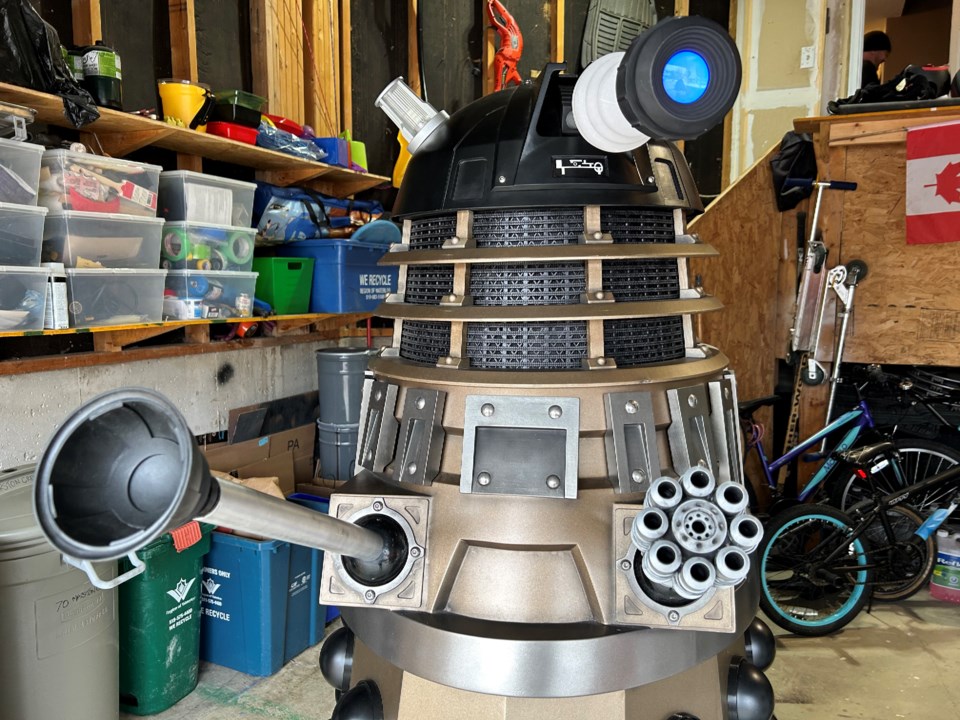 Fans will line up for hours to get a photo with the Daleks and hear their cheeky banter.
Both of them are fully operational, equipped with their iconic robotic voice and are often controlled by Foggo or his son.
"This is a real family affair," added Foggo. "We are all big fans of the show and they love to help out whenever they can."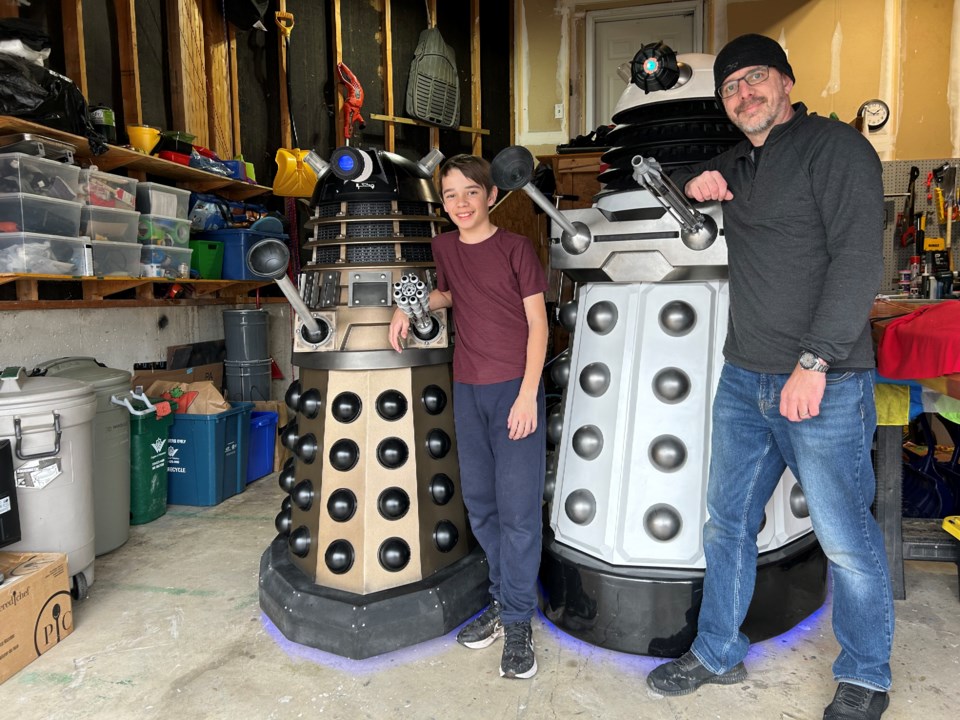 "We love doing this, it has really become bigger than we could have ever dreamed of," he said. "When you get to see the look on these fans faces, it truly is priceless."
Foggo recalls attending a convention where there was a long line of people waiting to get a photo and talk to the Daleks.
But it was one fan interaction that made everything he had put into building these machines worth it.
"Up walked a girl who was non-verbally autistic and her mother. I am in the suit and she just starts talking to me and we have a bit of back and forth, this goes on for a really long time," Foggo recalled. "Her mother just sat in the corner crying, she couldn't believe that her daughter, who she never hears talk, having such a lengthy conversation."
When interactions like these happen, all of the money, blood, sweat and tears were worth it, he added.
Foggo is currently getting ready for this year's run of conventions as it happens to be Doctor Who's 60th anniversary.
He and his team are planning a big surprise for FanExpo in Toronto and cannot reveal any details.
"I can say that it will be a major character from the show and it will be a big piece," he said.
What all started with a search for blueprints for a canoe has turned into a family bonding experience, charity fundraiser and fan favourite.
"In case anyone was wondering, I did get around to building the canoe, but I had to get all new materials," Foggo said.