A Waterloo Catholic District School Board trustee has come under scrutiny for tweets she posted to her personal Twitter account aimed at White Christians.
"The most dangerous creature on the planet is the White Christian male. They're a Threat to anyone who is not them," one tweet read.
The tweet was accompanied by several hashtags referencing misogyny and white entitlement.
Another post referenced white Christian women.
"Hush money. Buying silence about being underpaid. White women make obedient soldiers for the christofacist patriarchy," it said.
The tweets, and trustee Ashby's account have since been deleted.
The social media posts are not sitting well with some parents of students in the Catholic school board system.
A Parents As First Educators petition requesting Ashby to resign has gained over 2,900 signatures.
Another on the platform Campaign Life Coalition has exceeded 2,400.
Mike Bogias, who has a son in the Catholic school system in Cambridge, is one of the parents who's not impressed with Ashby's conduct and is calling for her resignation.
"I had to check to see if it was satire," Bogias said of the tweets.
"It was a bit unsettling to see that kind of rhetoric from a board member representing Christian values and inclusiveness. What I saw was a pattern of conduct online that this individual holds deeply prejudice views that include race, sex and religion."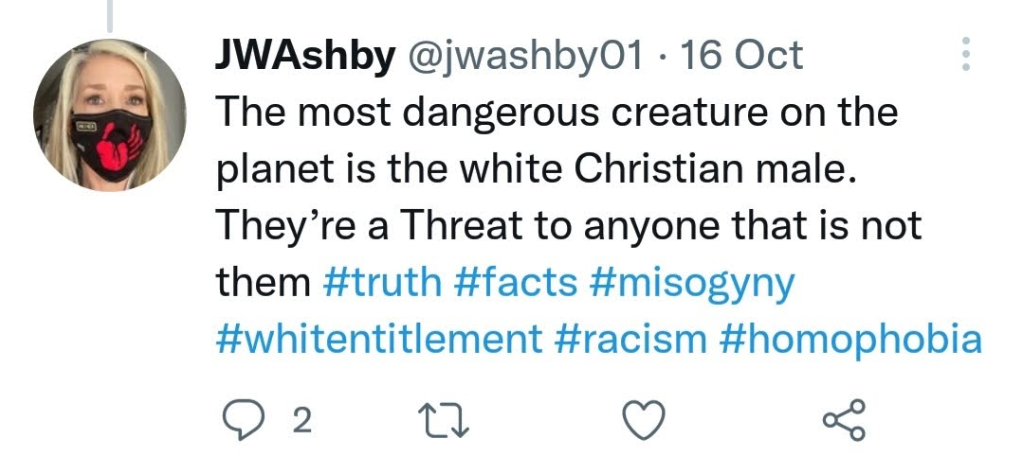 Bogias said he wrote a letter to the board on April 3 outlining the conflict with the board's code of conduct. He was then sent the code of conduct, with what he said was no explanation as to what was going to be done.
It prompted him to respond the same day on April 10, again asking what was going to be done. He says his question went unanswered.
A number of actions can be taken when a trustee is found to have violated the code of conduct, from an apology to the removal of the trustee in question from meetings.
Bogias believes the conduct of Ashby is far beyond what an apology can fix.
"When I look at the measures that can be taken, an apology or retraining doesn't solve anything in due time," he said.
"The only rational response would be to have Ms. Ashby resign from her position. Change in that way takes more than some short training session. My concern is she's making decisions that could hold those exclusionary thoughts."
Catholic board chair Tracey Weiler says the board is working through the process of what to do next based on the information before them.
"When requests come to us with an alleged breach of our code of conduct, we follow our code of conduct," she said.
"We follow the process. When a concern comes to us we go through an inquiry, following that process we determine next steps."
As for the timeline for the process to unfold, there's no requirement.
"We're ensuring that we're doing our due diligence," Weiler said.
"We don't have a timeline to determine next steps with these inquiries."
When reached for comment, Ashby said she is respecting the internal process of the board and will reach out when she is able to respond.
During Monday night's board meeting in Kitchener, Rebel News show host David Menzies appeared as a delegation asking Weiler to condemn Ashby's actions on Twitter. It brought the meeting to a halt after the packed chamber erupted in protest.
The reaction was captured in a Twitter post by the Campaign Life Coalition.
Waterloo Catholic School Trustees walked out of a board meeting tonight after being challenged about the racist, anti-Christian tweets by woke Trustee Wendy Ashby.

Watch parents EXPLODE in support of the challenge by Rebel News' @TheMenzoid. #FireWendyAshby #cdnpoli… pic.twitter.com/LQs7cUjFAB

— Campaign Life Coalition (@CampaignLife) April 25, 2023